2021 (23rd) Dalian International Industrial Expo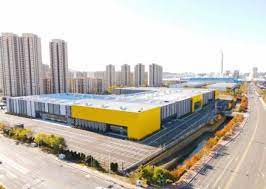 Dai-ichi Shoji (Dalian) Co., Ltd. is participating in
2021 (23rd) Dalian International Industrial Expo
Industry: Industrial / Mechanical / Processing
Time: 2021/May/12 – May/15 (Wed To Sat Total 4 Days)
Address: Dalian · Liaoning ChinaLiaoningDalian Dalian Free Trade Zone International Exhibition Center
Organizer: Dalian huazhan Exhibition Service Co., Ltd
Scope
Machine tools and tools exhibition area: metal cutting machine tools, sheet metal processing and laser cutting, metal additive manufacturing and special machine tools, measurement and automation technology, tools and measuring tools, molds, machine tool accessories, etc.

Robot and factory intelligent exhibition area: robot and non-standard automation equipment, industrial control, automation equipment, instrumentation, mechanical transmission, low voltage electrical, etc.
Electronic industry exhibition area: electronic application system, electronic components and production equipment, etc.

Hardware tools exhibition area: Hardware machinery, tool hardware, mechanical and electrical products, industrial production safety protection, labor protection products, fasteners, etc.
Casting, welding, heat treatment and surface treatment: welding equipment, welding materials, cutting equipment, casting, die casting, forging, hot processing products, surface treatment technology and equipment, etc.
All kinds of industrial cleaning equipment, cleaning agents, industrial cleaning equipment, etc.

Plastic rubber exhibition area: plastic processing and molding equipment, plastic auxiliary equipment and accessories, rubber processing machinery and equipment, raw materials and products, etc.
Environmental protection industry exhibition area: water and sewage treatment, pumps, pipes, valves, environmental monitoring, air treatment, smoke purification, waste gas and waste treatment and recycling, energy saving and new energy products and technologies.

Chemical industry exhibition area: petrochemical and new energy, basic inorganic and organic chemical raw materials, fine and special chemicals, chemical synthetic materials and raw materials, chemical equipment and automation, chemical technology, etc.

Bearing exhibition area: standard bearings, special bearings, special bearings, bearing parts and oil chemical products for bearings.
Urban industrial enterprise group exhibition area

Others: logistics and packaging equipment, engineering machinery and equipment, industrial aluminum, etc.